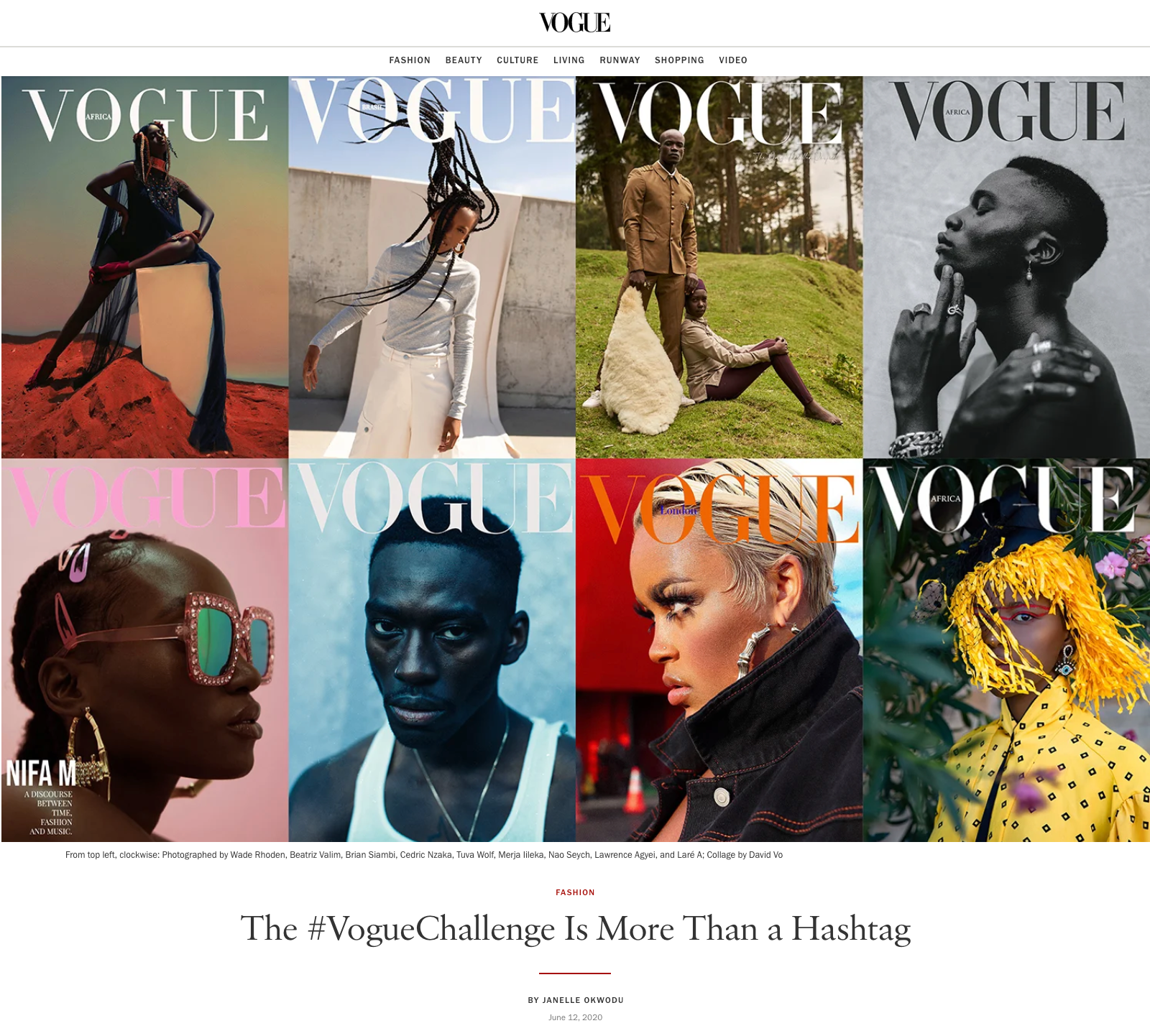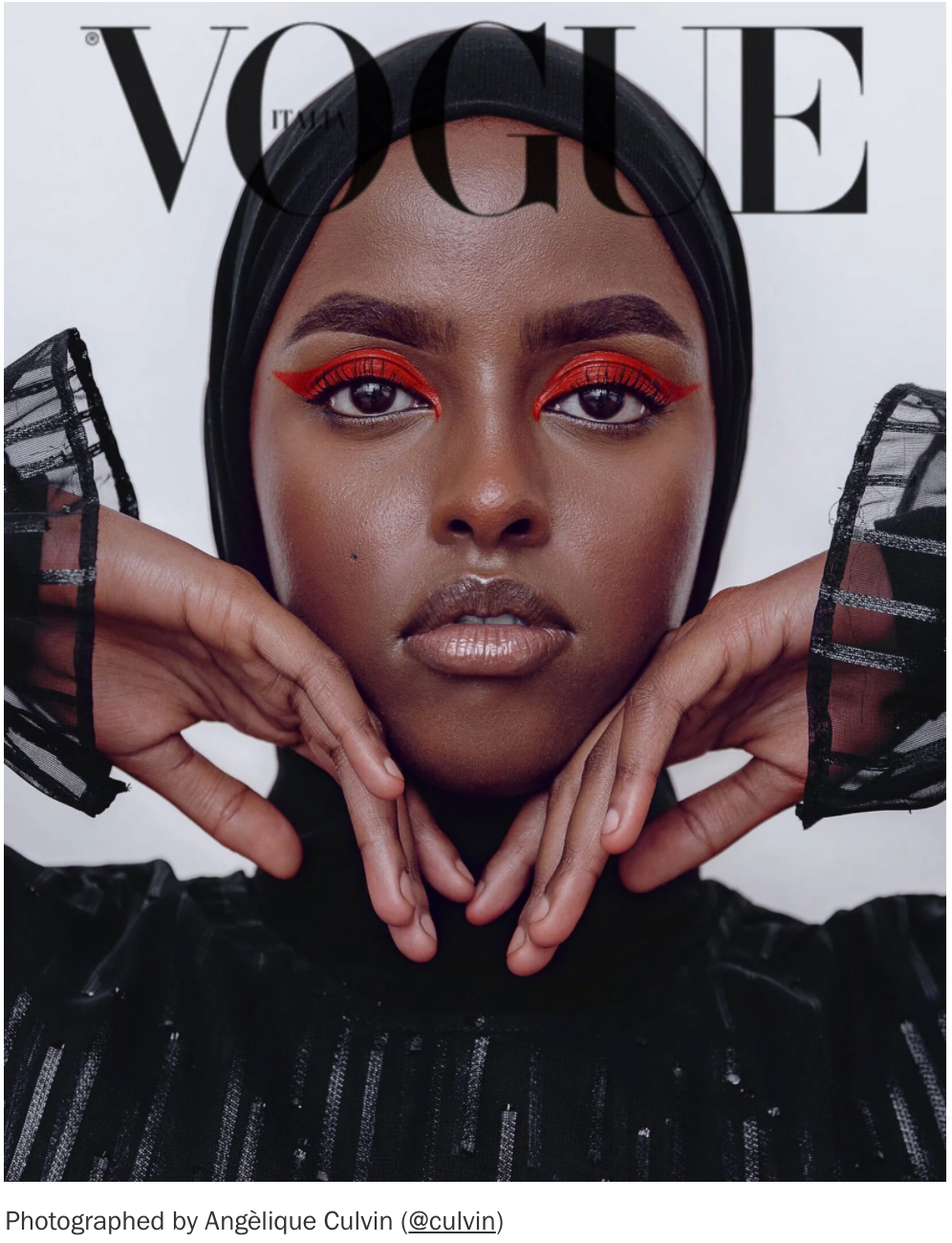 "It's fitting the challenge began with a tribute to the Black Lives Matter movement. Oslo-based student Salma Noor first posted a black and white shot of herself by photographer, Angèlique Culvin, with the Vogue logo and a headline reading, "being Black is not a crime" as a kind of protest. "I am a Black, young Muslim woman who wanted to create something new while speaking on something that is very important," shared Noor. "I chose Vogue because it's the standard one strives to reach, and it is one of my favorite magazines." Though she never imagined that the idea would become a worldwide trending topic, Noor is pleased to see a diverse set of creatives in the spotlight. "I was happy to see so many beautiful faces and talented photographers like Angelique that don't get enough credit for their hard work," she told Vogue. "I would [also] like to see more models of different ethnicities and skin colors, [exposure for] those without a big platform."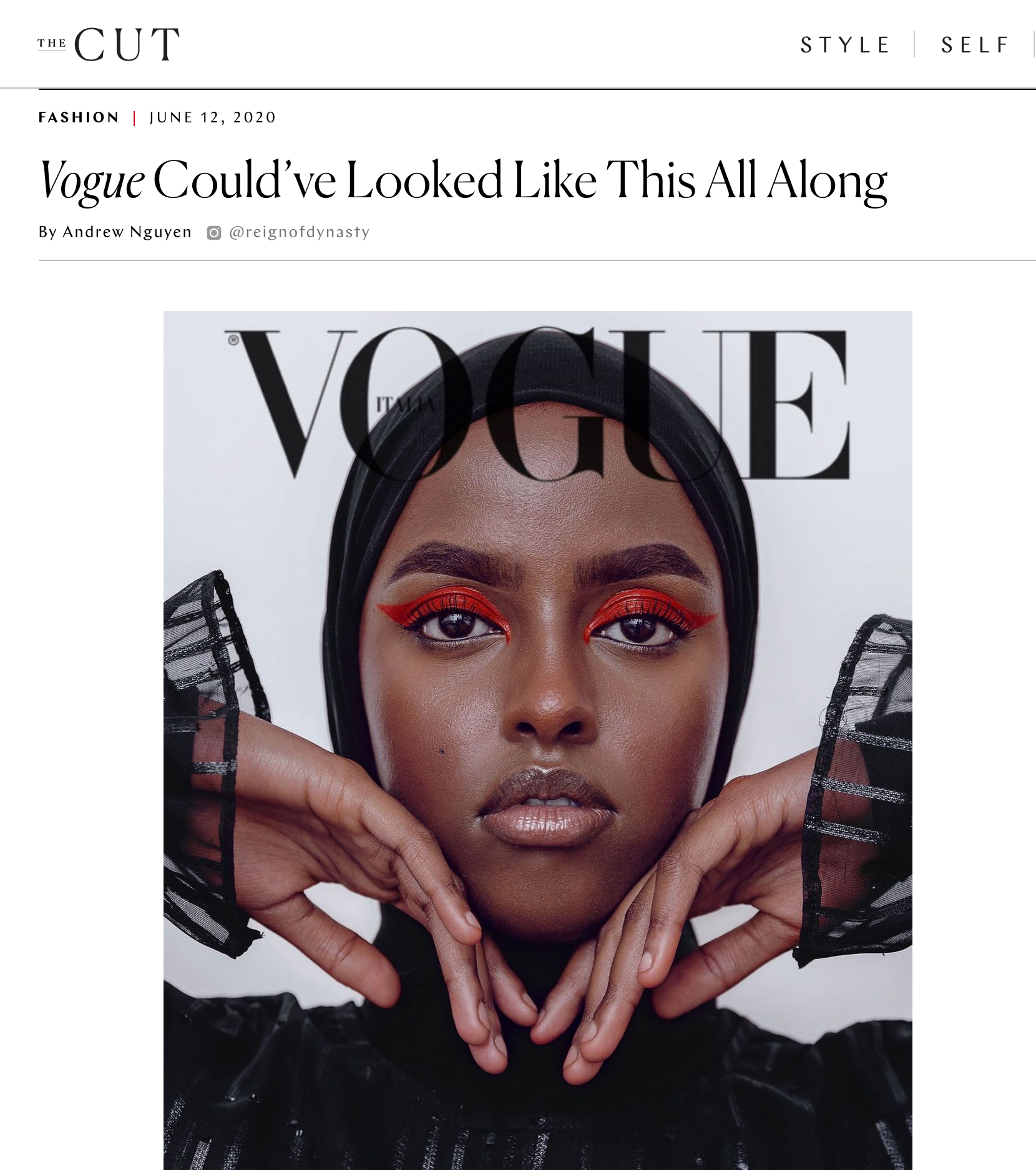 There's a new viral challenge on social media, and it's uplifting Black creatives that have been largely neglected by the fashion industry. Called the #VogueChallenge, it originated on 
TikTok
 in mid-May before taking on a new meaning amid widespread Black Lives Matter 
movements
 over the past few weeks. The challenge went viral on both 
Twitter
 and 
Instagram
, where thousands of Black users are imagining their own versions of Vogue covers.
The movement responds to the 
letter
 Anna Wintour sent earlier this week to employees admitting that "Vogue has not found enough ways to elevate and give space to Black editors, writers, photographers, designers and other creators." According to 
Teen Vogue
, there has been only one Black photographer to shoot a cover in the 127-year history of the publication, and only 21 Black women have appeared on the cover solo. Now, with Wintour's belated acknowledgment of racial disparity within the company, Black creatives are centering their bodies and talent by adopting the iconic branding imagery.
People around the world have been re-creating Vogue covers to promote diversity in fashion.
Posted under the hashtag #VogueChallenge, the mock-ups aren't just the latest social media fad -- they imagine what a more representative fashion industry could look like.
The challenge was started by Oslo-based student Salma Noor earlier this month, after she tweeted an alternative cover featuring a shot of herself under the headline "Being black is not a crime."